The 20th NY Sephardic Jewish Film Festival
Sold Out Opening Night of The 20th NY Sephardic Jewish Film Festival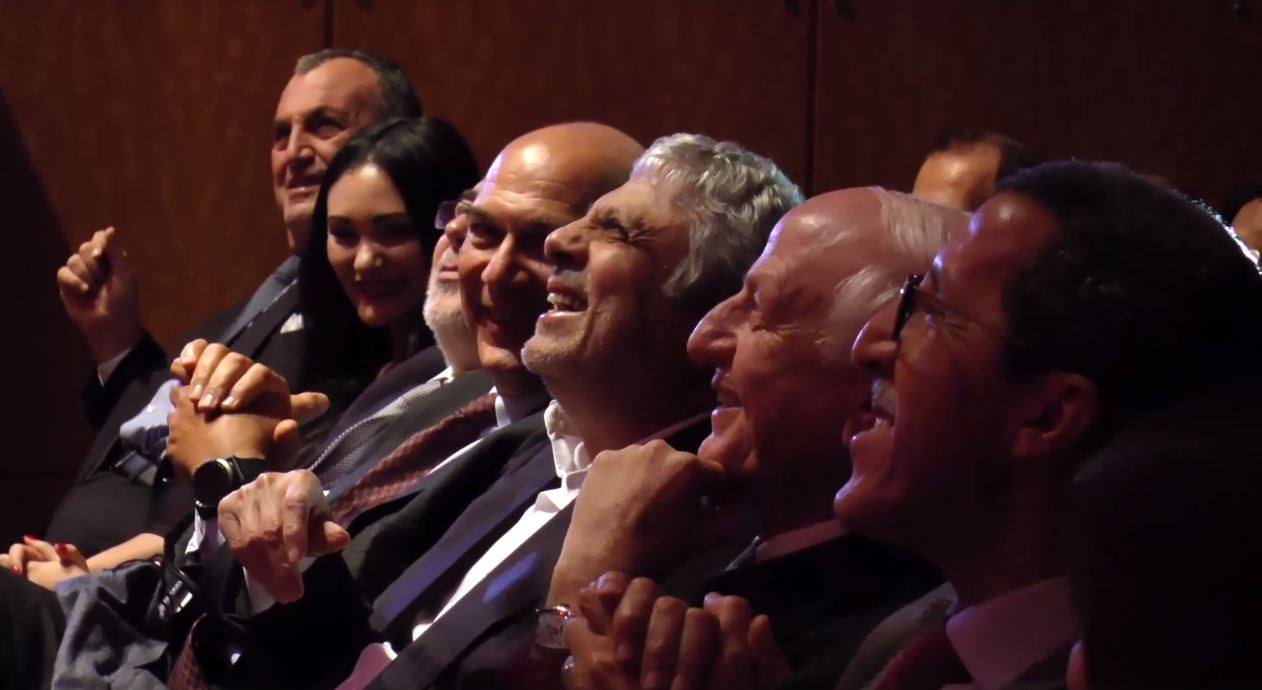 The American Sephardi Federation's 20th Anniversary Edition of the New York Sephardic Jewish Film Festival (NYSJFF) opened with a celebratory tribute to Mr. André Azoulay, Counsellor to His Majesty the King, Mohammed VI, King of Morocco, on March 30th. The evening was co-presented with Association Mimouna.
(New York, NY) April 4, 2017 — Algerian-French recording legend Enrico Macias and his talented grandson Symon Mill, Kuwaiti singer and human rights activist Ema Shah, Israeli-Moroccan singer Neta Elkayam and Amit Hai Cohen, and French-Moroccan opera star David Serero performed before a sold out audience, which included ambassadors, consul generals, and representatives from Cape Verde, Cyprus, France, Greece, Israel, Mexico, Morocco, Paraguay, Portugal, and Spain, as well as Sephardic leaders from throughout North America and the Former First Secretary of the P.A.'s Foreign Ministry.
Other notable guests included:
Mr. Mostafa Terrab, Chairman & CEO of OCP Group, who flew in from Morocco exclusively to surprise Mr. Azoulay;
Ambassador Omar Hilale, Morocco's Permanent Representative to the United Nations;
Mr. Larbi R'Miki, who came from Washington, D.C. on behalf of HH Princess Lalla Joumala, Morocco's new Ambassador to the United States;
Mr. Mohammed Benabdeljalil, Morocco's Consul General at New York;
Mr. Tony Marks, President of the NYPL The New York Public Library;
Col. Jonathan de Sola Mendes, a Sephardi World War II and Korean War hero;
Mr. Kamal Oudrhiri, Radio Science Group Manager at the NASA Jet Propulsion Laboratory and the Deputy Project Manager for the Cold Atom Laboratory;
Ms. Asmaa Hassouni, General Manager of Royal Air Maroc USA
Sir

Charles Dahan

, VP of the The World Federation of…;
Rabbi Sir Raphael Benchimol of the Manhattan Sephardic Congregation; and
Mr.

Simo Elaissaoui

, Founder of Moroccan Americans in New York
"What country other than Morocco could have gathered in the heart of New York a full house to celebrate the exceptional closeness between Islam and Judaism, of which my country is the most emblematic flag bearer in the Mediterranean," said Counsellor Azoulay, who was honored with the Pomegranate Award for Lifetime Achievement by the American Sephardi Federation (ASF). Ema Shah, who came to the NYSJFF from Kuwait and performed in Hebrew, French, and Arabic, expressed her wish that the relationship between Muslims and Jews in Morocco become a model for the region: "When I see the Moroccans here—André [Azoulay], and everyone from Morocco here—I felt proud…. You have something special in your country." Laziza Dalil, Vice President of Association Mimouna, explained how, while a student at Al Akhawayn University in Ifrane, she and Association Mimouna President Elmehdi Boudra were worried that the "young generation didn't have the same discourse about our Jewish counterparts as our parents and grandparents did…. when [our parents and grandparents] were telling us stories about their Jewish friends, their Jewish neighbors, we felt a certain nostalgia about this Convivencia…. We were losing something very precious about us. Something that belongs to who we are. To our identity. We were losing ourselves… we decided in our small school to do something. So we gathered and created Mimouna to promote and preserve the Moroccan Jewish heritage."
Laziza thanked Counsellor Azoulay for his early and essential encouragement of Association Mimouna's civil society initiatives.
Enrico Macias prefaced his performance, solo and with Symon Mill, by saying, "Since the beginning of my career, I always fight for the uniting of Jews and Muslims…. because we are the children of Avraham Aveinu," referring to Abraham. Enrico, who also performed an impromptu duet of his classic song "Oh, Guitar" with Ema Shah, added: "I am very proud to sing for the Moroccan people here. And I said to Mr. André Azoulay my admiration for him, for the state, for the Moroccan State, for the King, the two Kings [Hassan II and Muhammed VI]…. And I said that I want to sing for the Festival of Essouira because my roots are Arabic, Andalussi, Berber, my roots and family. Like you saw in the film," referring to "Diarna Insights: Cheikh Raymond's Record Store in Constantine, Algeria" a film by the Diarna: Geo-Museum of North African and Middle Eastern… that tells the story of how the Jewish community was effectually forced to flee Algeria and how, even today, Enrico cannot return to visit the grave of his murdered father-in-law and pioneering band leader, Cheikh Raymond Leyris. By comparison, "what Morocco has achieved in terms of coexistence, recognition of history, and generosity of spirit is simply incomparable," according to ASF Board President David E. R. Dangoor in an interview with the Agence Marocaine De Presse (MAP).
Click

here

to watch

"Diarna Insights: Cheikh Raymond's Record Store in Constantine, Algeria
According to ASF's Executive Director, Jason Guberman-P, Morocco's Constitution encapsulates the country's 'one and indivisible national identity' defined by its Jewish, Arab, Amazigh and other elements. This, in and of itself, would be exceptional. And yet, these wondrous words are supported by concrete actions, such as King Mohammed VI's restoration of 167 Jewish shrines and cemeteries, as well as the more recent restoration of the street names in Marrakech to their original Jewish names." "These initiatives send an invaluable message to current and future generations on the role of Jews and Jewish tradition within Morocco. This message is so important because, as Ernst Fischer explained, 'the degree of a society's culture can be measured against its attitude towards the Jews. All forms of anti-Semitism are evidence of a reversion to barbarism.'"
"In honoring Counsellor André Azoulay, the American Sephardi Federation wishes to express its admiration and gratitude for his life's mission to perpetuate the Moroccan ideal, which (in the words of the Moroccan Constitution): 'values openness, moderation, tolerance and [the] dialog for mutual understanding between all the cultures and the civilizations of the world.' It is ASF's hope, moreover, that others will emulate Counsellor Azoulay's enlightened example," Mr. Guberman said in an interview with MAP.
Click here to watch David Serero sing a crowd-rousing "Sidi H'bibi"
Councillor Azoulay was also praised as "a real humanist. A man of vision" and model for courage by Mr. Mostafa Terrab, with whom he had worked in the 1990s in the Moroccan Royal Cabinet and on the economic side of the Middle East peace process.
"We need much more Morocco in the world. We must join Morocco as it seeks to preserve and share its rich Jewish heritage. We should stand with Morocco as it seeks, through the MarrakeshDeclaration and efforts to train imams, to counteract fanaticism globally," added Mr. Guberman.
The American Sephardi Federation, based at the Center for Jewish History, proudly preserves and promotes the history, traditions, and rich mosaic culture of Greater Sephardic communities as an integral part of the Jewish experience. ASF hosts high-profile events and exhibitions, produces widely-read online (Sephardi World Weekly and Sephardi Ideas Monthly) and print (The Sephardi Report) publications, supports research, scholarship, and the National Sephardic Library, and represents the Sephardi voice in diplomatic and Jewish communal affairs as a member of the Conference of Presidents of Major American Jewish Organizations.