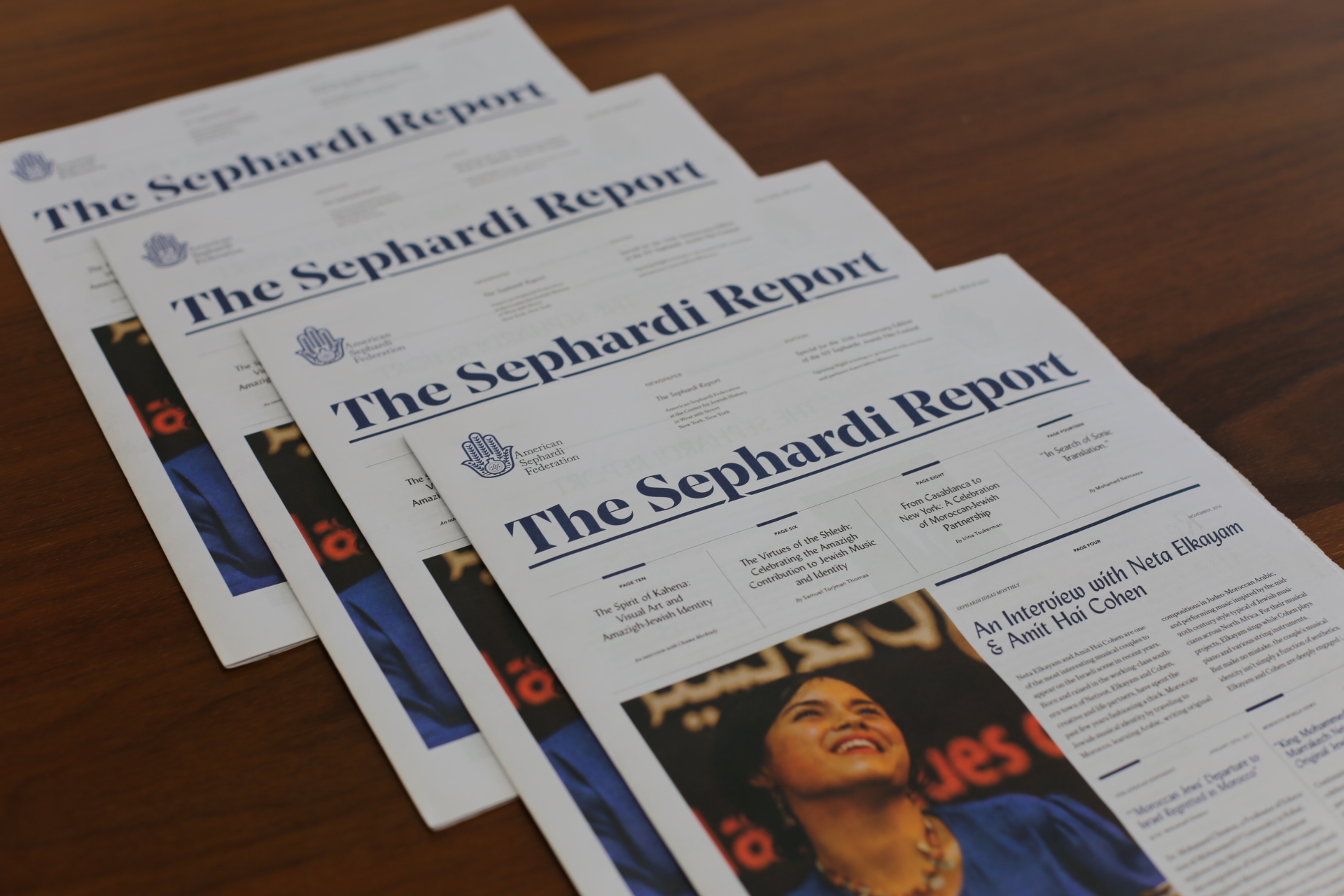 Dedicated to recording, remembering and rejoicing in the Sephardi past and present, the American Sephardi Federation is proud to publish The Sephardi Report.
The Sephardi Report is a publication that explores the legacy of Jews from the Middle East and the greater Sephardic Diaspora and that shines a light on contemporary Sephardi creativity and excellence in the arts, scholarship, entrepreneurship, rabbinic thought, and philanthropy.
Subscribers
Make a contribution to ASF for $36 ($18 tax-deductible) and receive TSR for one year shipped to your door anywhere in the world. Subscribers will also receive a digital copy of each issue and a complimentary book from the ASF's bookstore.
Patrons
Contribute to the preservation and celebration of Sephardi Jewish culture by becoming a Patron of The Sephardi Report! For a one-time contribution, you will become a part of the magazine as we print your name—or the name of your company and your company's website—in the Patrons section of TSR.
How it works. Patrons who show their support for TSR through a one-time contribution of $250 receive: 1. Their name, or the name of their company and website, printed on the back of our upcoming issue. 2.  A digital copy of the magazine before it is officially published in print. 3.  A print copy of the upcoming issue, sent directly to wherever they are in the world.
Sponsor
TSR does not accept advertising. Interested individuals, foundations, and companies are instead invited to become Sponsors. Only eight Sponsors will be allowed to underwrite each issue. For $2,600, Sponsors will receive a dedicated, distinctive page to present their message—in honor or memory of loved ones, causes, or brand—in the center of the magazine. Thanks to our Sponsors, TSR will be able to share the beauty, depth, and vitality of Sephardi Jewish culture with a broader audience. Contact us at info@americansephardi.org for more information.
Subscribe / Donate